Tips To Extend The Life Of A Printer
Nowadays, printers are being used everywhere be it home or offices. The printer is essential to increase the productivity of your company. We can't imagine an office without a printer.
So once you buy it, then most probably the next thing you want to know the tips to extend the life of a printer. The lifespan of a printer depends on several factors.
We know that buying a printer again and again can be costly. So here we came up with the best solution.
In this article, you will find 10 useful tips that you can follow to extend the lifespan of your printer. The good news is that you can easily follow these tips and it requires no skills.
Related Article: What are Different Types of Printers
1. Clean Your Printer
The first, simple, and amazing tip that you need to know is to clean your printer from inside and outside. It is the easiest way to extend the life of your printer.
Another benefit of cleaning a printer is that it also improves print quality. So if you don't remove dust on a regular or at least weekly basis, it can reduce your printer's overall life.
You know what we liked about printers, it does not require any technical knowledge or skills. Instead, you can do it yourself within a few minutes.
Read Also: How to Clean A Printer
2. Do not Power On/Off Frequently
Leaving your printer on all day can cause serious damage to your printing machine. Most people have to use their printers several times a day, so they leave them on for the entire day. This is not an ideal practice and you should not do this.
Also, doing power on/off action is not healthy for your printer. So we recommend you use standby mode. More, it will also save your energy.
3. Use Your Print Often
Most problems come when you don't use any machine for a long time. Similarly, using a printer often can make your printer work smoothly and rightly.
In case, you own the laser printer and you don't use it often, then it may not cause any issues. On the other hand, if you have an inkjet printer, you should use it on a frequent basis. One thing you can do with inkjet printers is to remove cartridges and store them in a sealed, dry, and room-temperature place.
All in all, we recommend you to make a habit of using your printer once a week at least, even print one or two pages.
Related Post: Best Printer For Infrequent Use
4. Update Driver Of Your Printer
Keeping your printer's driver up to date can make it technically healthy. There are a variety of technical specifications that need to be updated. For doing so, you can simply update your device whenever it needs to be.
If your printer is not updated, then it may not print well. And sometimes, it won't even print. So to avoid these headaches and extend your printer's life, keep it updated.
Also, go to the manufacturer's website and download it over there. It also helps you to get better and efficient performance.
5. Replace Parts Gently and Carefully
We have seen many cases when people make a blunder in replacing the parts, mostly cartridges. Since many people do it by themselves, it's crucial to know how to do it in the right way. For this purpose, a manual can fully guide you.
Always be careful and take off the parts gently. If any part does not fit rightly, do not force it. Otherwise, it can break your printer's internal parts.
Also, make sure that you do not touch the bottom surface of cartridges to avoid printing issues.
6. Don't Overwork than Recommended
Another tip we are going to break down with you is to avoid overworking your printer. One should use a machine according to its capability. So the monthly duty cycle is the numerical value of a printer to work without compromising the quality.
So every printer has its own limit and capability. If you are going to buy a printer, so always ensure sure that the monthly duty cycle is almost double what you expect to print.
If you are used to printing in bulk, you should have a printer with a highly recommended monthly duty cycle. It will help you prolong the life of your printer.
7. Close The Manual Feed Tray
When you are not using your printer then make sure to close the manual feed tray. Chances are that a tray sticks to the printer's surface and whenever you will try to take it off, it may break.
Aside from this, you won't need to clean your paper tray again and again. Since you have kept it close so it will be less dirty.
8. Make Sure Quality Of Paper is Good
The quality of a printer's paper is as crucial as the printed information. Using low-quality paper can lead to paper jam issues. To extend the life of your printer, you should avoid low-quality stuff.
Always make sure that the paper you buy meets the standard requirements as recommended by the manufacturer. Generally speaking, 20 to 24 pounds of paperwork great with mostly printers!
When it comes to paper quality, it is worth noticing that high-quality doesn't always mean thicker paper. So choose wisely!
Furthermore, low quality paper can put a negative impression on your brand.
9. Use Recommended Ink And Toner Cartridges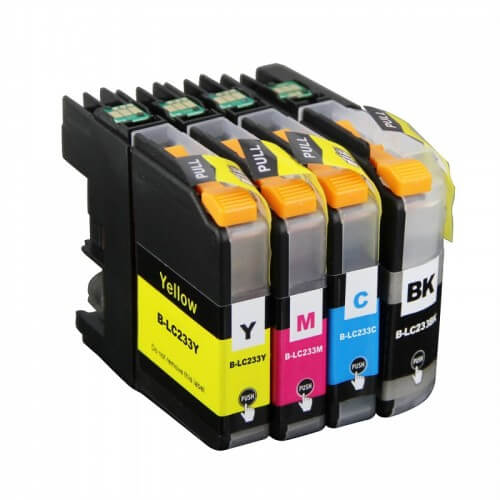 In order to ensure that your printer will last long, you should feed what it is hungry for. Some people buy wrong toners or ink cartridges that can damage your printer.
The functionality of a printer also depends on the toners. It is better to use recommended items by the manufacturer to get the maximum possible output. And these inks perform better than others.
If the ink does not work well, you can always change it from the manufacturer. They also guarantee that you will get the correct toners or ink cartridges for your printer.
The only drawback of buying the manufacturer's inks is that it will cost you more.
10. Keep Your Printer in Environment Friendly Place
Like other electronic devices, keeping a printer in a high temperature and humidity region can simply reduce the lifespan of a printer.
Always note that do not place your printer next to the heat exposure devices. It can have a negative impact on the printer's functionality.
We also know that paper absorbs moisture. So keep them also in a sealed and cool place.
Conclusion
So you have read the above-mentioned tips in detail. You may notice that it does not take much effort to do these simple things. So just follow our tips for successful printing, saving your valuable time and money. Also, you can make the most of your printing device and boost its productivity.
We strongly believe that this article will help you in increasing the lifespan of your printer. Plus, it will let your printer work well and offer great performance.