Best Printer For Homeschool Reviews
So a lot of people want to know about the best printer for homeschool. I decided to give my valuable audience all details.
Nowadays, printers are using widely for schools. So this article is helpful for both the teachers and students to choose the right school printer.
In schools, printers are now a part of education. Every day we need to print some documents. But it is important to make the right decision.
As every printer is designed for different applications. So in this article, you will read the features, specs, and reviews so you will be able to know what features you want.
READ: 10 Best Printer For Infrequent Use
List Of Top Printer For Homeschool
HP Envy 4520
HP OfficeJet Pro 6978
Canon Pixma iX6820
Canon Selphy CP1300
Epson EcoTank ET-2760
Canon TS5120
Brother HL-L3290CDW
HP Deskjet 1112
Brother MFC-J995DW
Canon Pixma TS9120
10 Best Printers For Homeschool Reviews
1. HP Envy 4520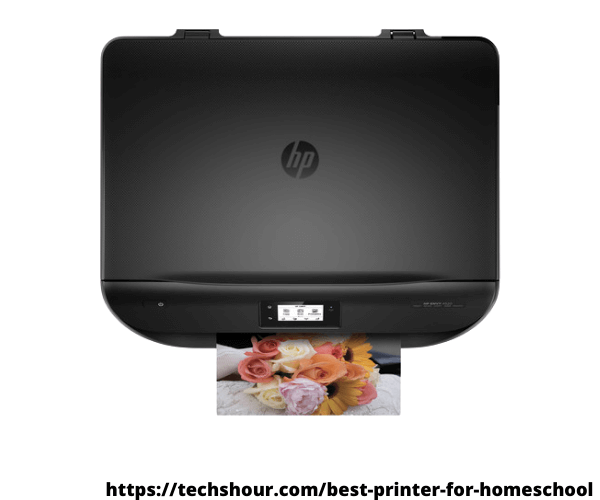 The All-in-one HP ENVY 4520 is a small and portable inkjet printer. The HP designed it, especially for home use. This wireless printer can help you in copying as well as scanning. It looks very clean.
And it gives high-quality print. It has a touchscreen having digital buttons and only one normal button. It lacks few office features like ADF and fax capability. This printer is suitable for home and schools. It's very easy to use.
You won't find any difficulty even if you are using it for the very first time. One thing I like about HP printers is that they are always very user friendly.
You can also enjoy its mobile printing features. As you can print through WiFi, IOS, Windows, Android, and google chrome. So students can print or copy coursework as well.
It is capable to print 20 pages per minute for black print and 16 for color print. With a 100 holding capacity of the paper tray. And that's enough for homeschool use.
One interesting feature of ENVY 4520 is the quiet mode. This allows you to print without any machine noise. However, the user will experience a little bit of slow speed in this mode.
Key Features
1- Its print resolution is 4800 x 1200 dpi
2- Functions: print, copy, scan
3- It has copy speed of 7.5 CPM for black and 4 CPM for color
4- Maximum print size: 8.5″ x 14″
5- Dimensions: 14.45″ x 17.52″ x 5.04″
Pros
WiFi, and WiFi direct
Affordable price
It can print through the cloud
High-quality print for photos and graphics
Cons
No FAX or ethernet
Low-quality print for texts
No memory card reader
---
2. HP OfficeJet Pro 6978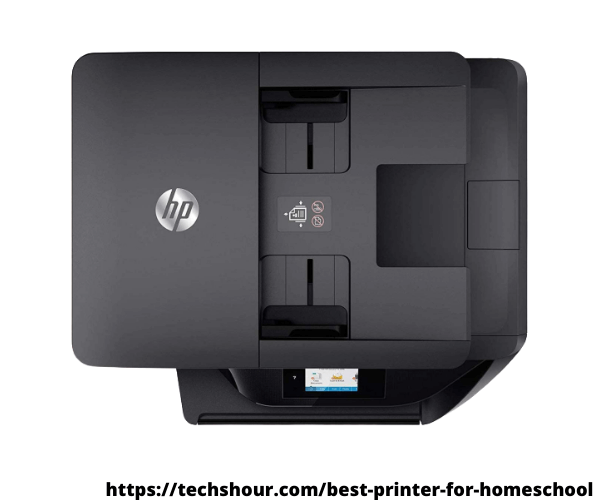 The OfficeJet Pro 6978 is the best HP printer. It is perfect for medium-volume printing for homeschool. Luckily, this all-in-one printer has auto- duplexing document feeder. It gives good photo and text quality.
The size is medium and it weighs 17.9 lbs. It has an input paper capacity of 225. The connectivity options are WiFi, ethernet, USB, WiFi direct, and wireless direct. Moreover, it has AirPrint and ePrint as well.
Now come to its setup. Like always, you can setup it quite easily. After setup, you will have download options for apps and software. These will enhance the functionality more.
And it has a good printing speed. It offers 20 ppm for black print. And 11 ppm for color print.
However, the running cost is comparatively high. So you will need to get HP's instant ink packages. This will low down the running cost.
Related Post: 10 Best Printer For Linux 2022 – Buyer's Guide
Key Features
1- Its print resolution is 600 x 1200 dpi
2- The printing technology is inkjet
3- Maximum monthly duty cycle: 20,000 pages
4- Display size: 2.65 inches
5- Dimensions: 15.35″ x 18.26″ x 9″
Pros
Auto duplexing feature
Above-average print quality
Easy to set up and use
Voice-activated option
Multiple connectivity options
Cons
High running cost without instant ink
Not suitable for high volume printing
---
3. Canon Pixma iX6820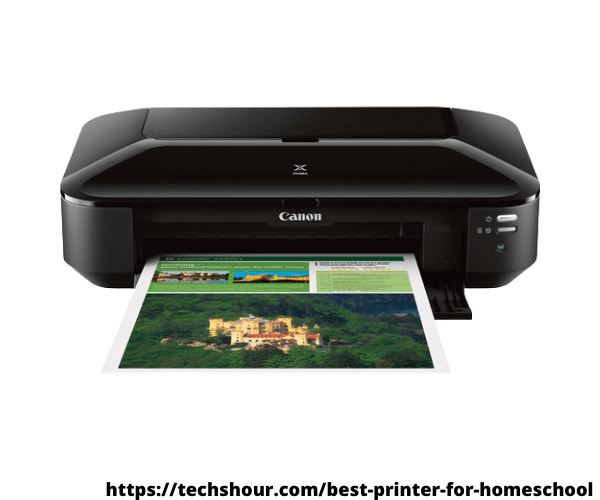 The Canon Pixma iX6820 is a high volume printer. It has an outstanding print quality which I like the most about this homeschooling printer.
Unlike most printers, it comes with 5 color ink cartridges. Its tray can hold up to 150 sheets. The speed is just average. I found it a little bit slow. It's a heavy-duty printer that comes with few features.
Although this is not an all-in-one printer. It lacks in scanning and copying. So if you just want high-quality prints for homeschool so you can consider it.
Key Features
1- Its print resolution is 9600 x 2400 dpi
2- Print size: Up to 13 inch by 19 inch
3- It gives 4″ x 6″ border less photos in just 36 seconds
4- Produce sharp, clear, and detailed photos
5- Dimensions: 23 x 12.3 x 6.3 cubic inches
You can also Read: 10 Best Printer For Cricut | Updated JAN 2022
Pros
Cheap printer
Many wireless options
User-friendly interface
Cons
No duplex printing feature
Less input tray capacity
---
4. Canon Selphy CP1300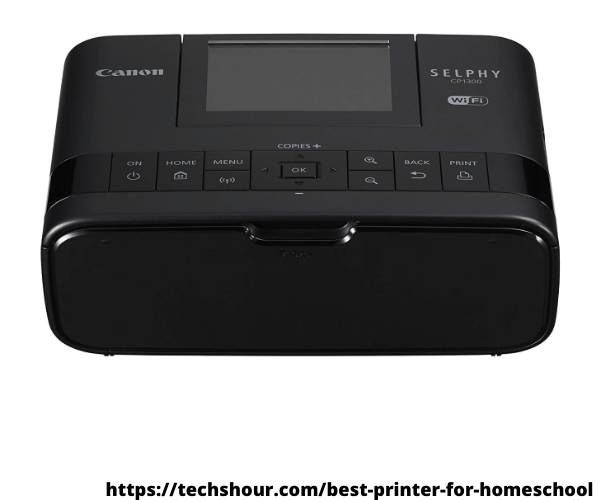 The Canon Selphy CP1300 comes with some upgrades than Cp1200. It has now a large screen, WiFi, and a better user interface. However, the portability and print quality is the same for Cp 1300.
It comes in black and white colors. The screen size has increased from 2.7 to 3.2 inches. It is compact in design and weights 2.5 lbs. It has a standard power cable. However, you can install a battery if you wish to use it as a portable printer.
It has an SD card feature so you will able to print from memory devices as well. Its print technology is based on thermal dye sublimation. We have many benefits for the dye sublimation type of printing. Its ink dries quickly. And this home-based printer can print that last for long even for 100 years.
It has good quality print as well. The running cost is affordable. It offers 35 cents for 4-in by 6-in size paper. It has a number of connectivity options available for the convenience of users. You just need to install the Canon Print app so you can print from your Android or IOS phone.
Key Features
1- Its print resolution is 300 x 300 dpi
2- Its print longevity is up to 100 years
3- It comes with auto power down feature which saves battery
4- Print speed: 47 sec for postcard size and 27 sec for credit card size
5- Dimensions: 7.1″ x 5.4″ x 2.5″
Pros
Portable and light in weight
Low running cost
Customizable screen options
It supports SD card
Versatile features
Cons
Limited print sizes
Users have to buy the battery separately for portable use
No touchscreen
---
5. Epson EcoTank ET-2760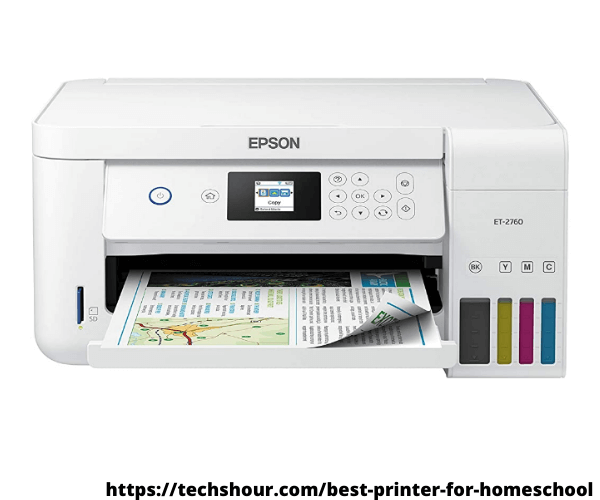 The Epson EcoTank ET-2760 is a lightweight, compact, and very inexpensive printer to use for homeschool. It just weighs 13 pounds. You can place it anywhere easily.
Now for paper handling, it has 100 sheet input tray from the backside of printer. While output tray can hold up to 20 sheets. The maximum duty cycle per month is 1500. Again that's good enough for homeschool applications.
Nowadays all multifunction printers for schools have many ways to connect your printer. Its connectivity options include WiFi, USB, Apple Air-print, Epson iPrint, Google cloud print, and also supports SD card.
If offers 10.5 ppm for monochrome and 5 ppm for color prints. Although the print speed is slow. But I think it is acceptable as it offers high-quality print t very low costs per print. And for normal homeschool use, you don't have the blunder of prints. So speed won't be an issue for you.
Key Features
1- Its print resolution is 5760 x 1440 dpi
2- Functions: print, copy, scan
3- Eco tank cartridge free ink slot
4- Maximum print size: 8.5″ x 47.2″
5- Dimensions: 14.8″ x 22.0″ x 10.5″
Pros
Very low running cost
Outstanding print quality
Light in weight
Automatic two-sided printing feature
---
6. Canon TS5120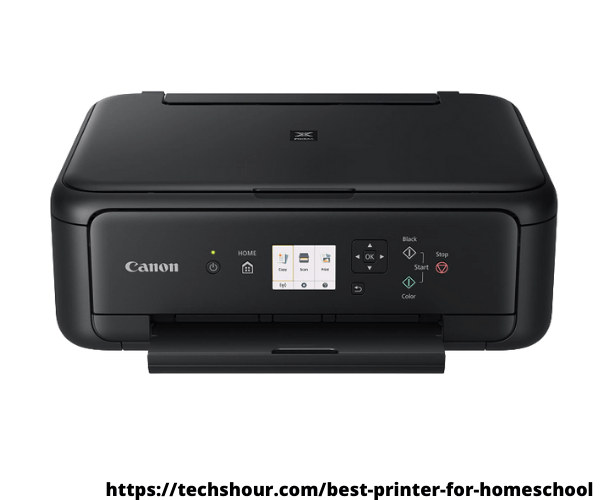 The Canon TS5120 is an inkjet all-in-one printer with exceptional text quality. Also, it comes with a budget-friendly price.
It is specially built for the home. This is a lightweight and compact. It weighs only 14.3 lbs. The control panel is also very simple. Your family can use it easily.
It can hold up to 200 sheets. The output quality for the text is excellent. While for graphics and photos it is average. And it comes with two ink tanks.
Now move towards its running costs. It will cost you 6.7 cents per monochrome page and 14.7 cents for color print. It includes many mobile connectivity options as well. And the speed is moderate.
Key Features
1- Print resolution is 4800 x 1200 dpi
2- Functions: print, copy, and scanning
3- Print speed: 8.3 ppm
4- Maximum print size: 8.5 inch x 14 inch
5- Dimensions: 5.8 x 16.8 x 12.5
Pros
Great print quality for text
Good ink storage capacity
Excellent build quality, compact, and lightweight
Automatic two-sided printing
High speed for plain papers
Cons
No FAX capability and ethernet
Lacks ADF
---
7. Brother HL-L3290CDW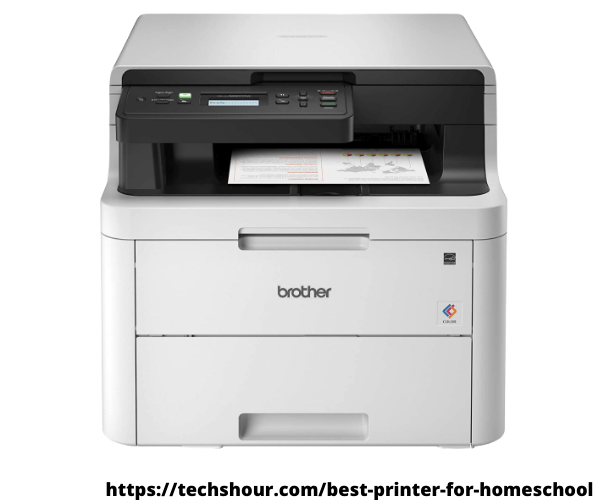 The Brother HL-L3290CDW is one of the best home laser printers. It is fast and gives quality print. So it is the best printer for home use or small jobs.
The connectivity features include WiFi, USB 2.0, WiFi direct. Brother's iPrint and scan. The Android and IOS features are also available.
One thing I love about the HL-L3290CDW laser printer is its high speed. It gives 25 pages per minute for black print and color print as well.
It comes with 250 sheets holding capacity. The maximum monthly duty cycle is 30,000. However, you are recommended to print 1500 pages.
It is cheap and affordable to use. As it offers 2.6 cents for black pages and 15.5 cents for color.
Key Features
1- Its print resolution is 600 x 2400 dpi
2- Functions: print/copy/scan
3- Memory capacity in standard is 512 MB
4- Time for first color copy: 16 seconds
5- Dimensions: 14.5″ x 16.1″ x 18.7″
Pros
Outstanding output quality
Fast speed
Good mobile support
Low running cost
Cons
No NFC and Ethernet support
Basic control panel
---
8. HP Deskjet 1112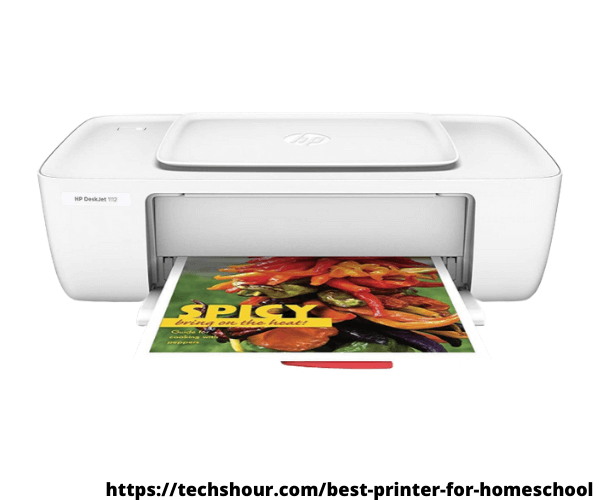 It is a thermal inkjet printer with a low cost and a good speed of 20 ppm. The HP Deskjet 1112 comes with 4 ink pots. It has 1 black and 3 cyan, magenta and yellow cartridges.
There is a quick and easy setup. It is the best desktop printers. Its compact design and portability will definitely save your space. You can print monthly up to 200 pages. The HP has given it a weight of only 4.45 pounds.
It comes with a paper handling capacity of 60 sheets for the input tray and 25 sheets for the output tray. It can hold up to 5 envelopes.
You can print more for less. As it is very inexpensive. It is best for home printing. Since it is an energy star certified so it is environmental friendly.
Key Features
1- The print resolution is 1200 x 1200 dpi
2- Functions: printing
3- The print speed is 20 ppm for B/W and 16 ppm for color
4- Media sizes: A4, A6, Legal, B5, Letter A size
5- Dimensions: 16.8″ x 8.5″ x 4.9″
Pros
Require small space
Very inexpensive
Nice print quality
Cons
Do not support mobile connectivity
---
9. Brother MFC-J995DW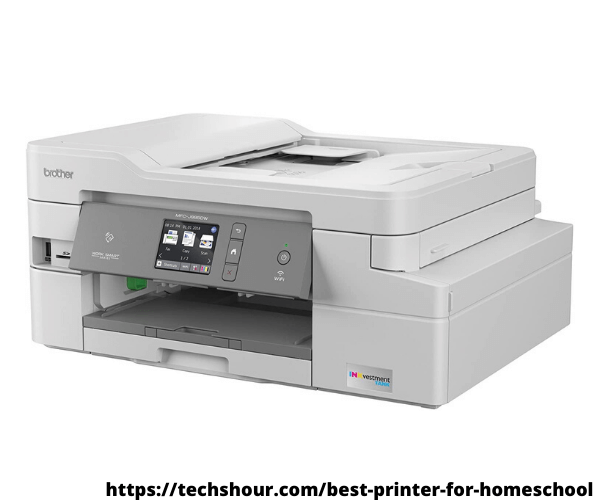 The Brother MFC-J995DW printer comes with all features that meet all needs for home-usage. The recommended print volume is 1500 that's good enough.
It supports all the connectivity options. So it is versatile. You can connect it in too many ways. One thing I like that it contains near field communication (NFC) support too.
Do you know about the INKvestment tank? It is released by Brother. This program will save your running cost. With the release of MFC-J995DW, there are few upgrades in technology too. Now, Brother printers have very detailed specs and features.
This printer offers 12 pages per minute for monochrome pages and 10 ppm for color prints. The output quality of the printer is also good. The printer is reliable. It is a great choice if you are looking for a long term printer for homeschool use.
Key Features
1- Print resolution: 6000 x 1200 dpi
2- Print size: 8.5″ x 14″ (maximum)
3- Functions: Print, copy & scan
4- Display: 2.7 inch color touchscreen
5- Dimensions: 17.1″ x 13.4″ x 7.7″
Pros
Ethernet, USB, NFC, and SD card support
Low ink costs
20 sheet ADF
Great cartridge system
---
10. Canon Pixma TS9120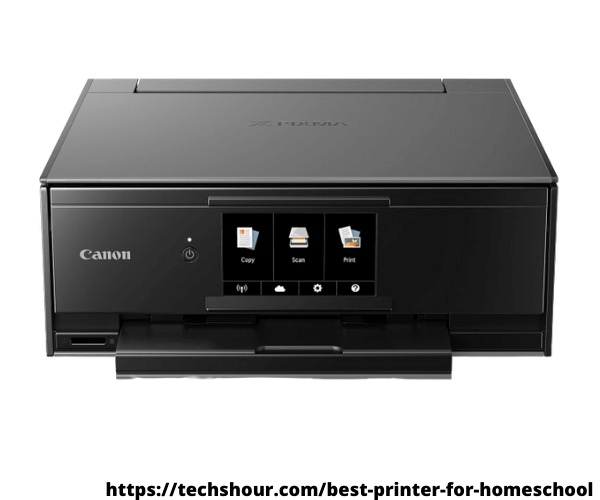 Due to its excellent text and photos quality, the Canon Pixma TS9120 is the best printer for homeschooling usage. It is the next model after TS9020 in the Canon Pixma series.
You have 3 colors for this model; red, gray, and gold. Although it lacks an ADF. But it has a number of advanced features. The color touchscreen is 5 inches in size and customizable.
It is the higher-end printer of the Canon PIXMA series. Unlike other models, it uses 6 inks. And the weight is 14.7 pounds. It has two input trays with each paper holding capacity of 100 sheets.
It has a wide range of connectivity. And it has a speed of 15 ppm for monochrome pages. If you want the best value printer that prints outstanding for photos then it is a good choice for you.
Key Features
1- The print resolution is 4800 x 1200 dpi
2- Display size: 5 inches color touchscreen
3- Functions: print, copy, scan
4- It has automatic duplexing feature
5- Dimensions: 5.6″ x 14.7″ x 12.8″
Pros
Excellent output quality for both texts and photos
It comes with 2 input trays
Support SD card, Ethernet, USB 2.0, and Bluetooth 4.0
It offers fast snapshot printing
It has two additional ink cartridges
Cons
No ADF and NFC
Lacks WiFi direct option
---
Final Words
By now you know which printer can fulfill your expectations. All of the above are highly advanced. Now you just need to look at your requirements before choosing the best printer for homeschool.
All the above printers are worthy. Now it's your turn to tell us below which one you are going to buy.