Best Printer for Screen Printing Transparencies 2023
Transparencies are thin sheets of transparent flexible material that is usually acetate. There are many personal and business uses of transparencies. You can use them for presentations using an overhead projector, visual aids, screen printing on T-shirts, and much more.
Not every printer is designed to print on transparency sheets. If you use an ordinary printer then it may melt inside your printer and cause damage. Also, transparency sheets will become cloudy and you won't get the quality prints.
Hence it's very important to choose the best printer for screen printing transparencies so you can create beautiful, sharp, and high-quality prints. Further, you won't face any issues. Let's begin!
List Of Printer for Screen Printing Transparencies
10 Printers for Screen Printing Transparencies Reviews
1. Epson Expression XP-15000 | Best Epson Printer For Screen Printing
The Epson Expression XP-15000 is a next-level printer. Like PIXMA iX6820, it's also a wide format printer. You can create stunning transparencies up to 13 by 19 inches.
Apart from large printing capability, it uses the six color Claria inks which make your print look amazing. Further, the new red and gray inks used in this printer enhance your photos to the next level.
Despite being a fact it's a professional photo printer but you will also love the text quality of this printer. Its printed text is decent, prominent, and very clean. Get the high-quality borderless photos of 4 by 6 inches as fast as 27 seconds.
Fortunately, it has two paper trays. The rear paper tray comes with the 50 sheets capacity so you will feed the papers less often. And one of the strong points of this printer is the 200 sheets capacity of the input paper tray.
When it comes to productive features then don't forget the auto two-sided printing that will make the job super easy and efficient. Moreover, it has all the connectivity features. Print easily with your mobile or tablet within seconds.
With 2.4 inches touchscreen, it's quite simple to use. Also, it's a compact printer and can easily be fitted on your desk. Measuring 6.3 by 18.7 by 14.5 inches and weighing 18.7 pounds, making it a small wide format printer as compared to others.
One drawback of this printer is the absence of a memory card slot.
It's a good pick for printing transparencies for you if you're looking for a professional printer and does not require all in one capability. Since it's a high-end printer so the price tag is a bit high. However, technology, print quality, and exclusive features justify it.
Also Read: Best Printer For Cricut
Pros
Great output quality
New Claria HD inks
Compact
Broad format options available
2. Canon Pixma iX6820 | Best Printer For Transparency Film
Meet Canon PIXMA IX6820 which features high-quality prints, higher printer resolution, and versatility. You can even use it for wide format printing for transparencies.
As far as the print resolution is concerned, it beats all printers. With 9600 x 2400 resolution, you won't get the fine, professional, and detailed prints like it. Moreover, the 5 individual inks create beautiful prints with vibrant colors.
And the printing of borderless photos is also fun. You can get the large photos 4 by 6 in only 36 seconds. The print speed is really good. It offers 14.5 ppm for black prints and 10.4 ppm for color prints.
Some of the printer's most prominent features are probably the quiet mode, auto power on, and my image garden software. With this software, you can make your prints more stunning with special filers, auto layout suggestions, and more.
It has a single paper tray with 150 sheets capacity. And this is not a strong point for this printer.
Thanks to the fine technology of this printer due to which your prints can last up to 300 years.
It features good connectivity both wired and wireless. The two best features are the Hi-speed USB and Ethernet. Print easily from your mobile by Google cloud and Airprint. However, the duplexer is missing in this printer.
All in all, it's a wide format printer with a lot of productive features, fast speed, and exceptional print results in an affordable price tag.
Read Also: Best Dual Tray Laser Printer
Pros
Affordable
Very high print resolution
Ethernet
Simple to set up
Print large photos
Cons
No duplexer
One paper tray
3. Epson Stylus C88+ | Best Printer For Film Positives
The Epson Stylus C88+ is the high end and fast machine ideal for printing transparency. It offers a couple of productive features to its users.
With a high printing resolution of 5760 x 1440 optimized dpi, it delivers fine, sharp, and amazing quality prints. And it comes with individual ink cartridges which allows you to replace the ink that needs to.
With DURABrite Ultra ink, enjoy the stunning and incredible transparencies. Luckily, your prints won't smudge as this ink gets dry quickly after the print. And you don't need to wait for minutes to get your prints dry. One more benefit of DURABrite ink is that you get the water-resistant prints on all media types even on plain paper.
Both the speed and quality of this printer makes it perfect for high printing volume. It delivers the fast prints at a rate of 23 ppm for black prints and 14 ppm for color prints.
When it comes to versatility, the Stylus C88+ is second to none. It supports plain paper, bond paper, card stock, semi-gloss paper, matte paper, envelope, and much more. So you won't be limited in printing with this machine.
The feeding capacity is also good. It has an input tray that can hold 120 sheets of various papers sizes up to 8.5″ by 14″.
Thankfully, editing the photos is no longer the issue anymore. It has editing software by which you can retouch and edit your photos quickly before you print on transparency films.
The USB and parallel ports allow you to print easily with both Windows and Macintosh OS. And it supports both wired and wireless connectivity features.
Pros
USB and parallel ports
Fast speed
Waterproof prints
High print resolution
Supports various paper sizes
Cons
Does not work well with cheap inks
4. Canon PIXMA TR150 | Best Inkjet Printer For Screen Printing
The Canon PIXMA TR150 is a Wireless portable printer that has excellent quality output. It's a small and compact printer weighing only 4.5 pounds. It makes the printing on the road possible. No matter where you are, you can print anywhere and anytime with Canon TR150.
It gives very detailed and crisp prints on transparencies. Get the square and borderless prints with rich colors and excellent graphics.
The printer is quite portable. Enjoy the printing conveniently anywhere with this lightweight printer. And the printing is made easy with the Canon PIXMA TR150. It has a 1.44 inches crisp display with easy and simple navigations.
And the robust connectivity of this printer allows you to print with WiFi and Wifi Direct at your fingertips. You can print easily with your mobile or tablet by using AirPrint, Google Cloud, Canon Print app, and the Mopria Print.
Do you know what makes it super portable? It comes with an optional battery kit so you can enjoy printing when you are outside up to 330 pages. And you can charge the battery easily with your laptop via USB.
It is a slow printer. And it offers only 9 ppm for monochrome pages and 5.5 ppm color prints. It does not support auto-duplexing. Like other low volume printers, this printer running costs per print is a little bit high. But if you don't have bulk needs you won't feel it.
It has a unique feature of saving up to 5 templates. With this feature, you can print directly from your printer and you don't need any device.
Must Read: Best Printer For Printing Checks
Pros
Robust connectivity
Super portable
Small footprint
Optional battery kit
Cons
Slow speed
High running costs
5. Epson Artisan 1430 | Best Printer For Screen Printing Positive
The Artisan 1430 is the combination of smooth performance, advanced features, and incredible quality output, making it a suitable printer for printing transparencies.
It is a wide-format inkjet printer. This means you can print large transparencies up to 13 by 19 inches. That's superb! You can get the premium quality large borderless prints with this printer. Further, you can print on CDs and DVDs.
Thanks to the amazing feature of color and lightning correction of this printer which makes your print into professional looking photos.
It uses the six individual Claria inks Black, Cyan, Light Cyan, Magenta, Yellow, and Light Magenta. So it will inspire you with the ultra High-Definition prints. Also, it offers crisp and clear texts for documents.
It has an input tray capacity of 100 sheets of plain paper and 30 sheets for specialty paper. That's good enough!
You may like it or not but it does not contain an LCD screen. It has physical buttons by which you can control the whole printer. And the setup is quite easy.
Unfortunately, it's a slow speed printer. But that's not a big deal because it is an affordable wide format printer as compared to others.
Pros
Incredible output results
Wide-format printer
Six color inks
Print up to 13″ by 19″
Free Photoshop software
Cons
No media card slots
No LCD control panel
6. WorkForce WF-7210 | Best Printing Transparency Machine
Another great choice for printing transparencies is the WF-7210. With this printer, create your prints to the next level with the advanced technology of Precision Core.
No doubt, the results produced are beyond the laser quality. Thankfully, it is a wide format printer so you can print documents as large as 13″ by 19″. Print borderless photos with amazing details and sharpness. For text, it also delivers great and sharp results.
One of the best features is the auto 2 sided printing that will save your time.
As far as paper handling concerns, it beats all the printers. It comes with versatile paper handling. It comes with a high feeding capacity of 500 sheets. A rear tray with 125 sheets capacity is also available.
Save your energy up to 80% with this economical printer. So you can use it for bulk printing needs without having any worries.
And for connectivity, it excels! It supports WiFi Direct, NFC, and Ethernet. Print conveniently with your Android mobile, tablet, iPad, and iPhone. And it has a clean and attractive display of 2.2 inches LCD.
As I mentioned it's made for high volume needs. So it has all the benefits which a high volume printer should have in order to save your time and costs. Another time-saving feature is the high speed. It offers 18 ISO ppm for black prints and 10 ISO ppm for color prints. However, like its companion, it's a massive printer.
It uses the Epson 252 and 252XL cartridges. Both these inks have affordable price tag. Overall, it's designed for great output quality and everyday printing with versatile paper handling.
Pros
500 sheets capacity
Auto 2 sided printing
WiFi Direct, Ethernet, and NFC
Consumes 80% less power
Dual trays
Cons
Supports Epson inks only
One paper cassette
7. Brother MFC-J985DW | Best Printer For Transparency Paper
The Brother MFC-J985DW is the premium printer that offers excellent print quality, low print costs, and a lot of productive features.
Usually, high-end printers have high running costs because they use multiple inks. But here that's not the case. I am impressed with the low running costs of this machine. It will cost you only up to 1 cent for black print and up to 5 cents for color print.
It's easy to use and simple to set up. You can easily complete a set up within minutes after plugging it in. And luckily, this is also the compact printer.
If I talk about the performance, it runs very smooth and fast. And it prints quietly so you won't hear the noise. Further, it has great build quality. The screen is fully responsive and controlled by your fingers. So in terms of performance, reliability, and build quality, it again wins!
Moving on, it comes with four INKvestment ink cartridges that can print easily 2400 black prints and 1200 color prints. That's also the key feature of this Brother printer.
You will also love the duplex printing and 20 sheets automatic document feeder. Moreover, it also offers fast scanning and faxing.
With its versatile connectivity support, the printing becomes very easy. No matter which OS you use or where you are sitting in home or office, you can print directly through Wireless connectivity. Also, it supports NFC.
Here I will mention one downside of this printer which is a 100 sheets capacity paper tray. I was expecting the high capacity input tray for this premium printer.
If you are with a high budget then this is the ideal transparency printing machine for long term goals and bulk print needs. It has all the premium features which a transparency printer can have and very high-quality output yet at low print costs per page.
Pros
High-quality output
Premium features
NFC and WiFi Direct
Very low running costs
Cons
Pricey
Low paper capacity
8. HP ENVY Photo 6222 | Best Hp Printer For Transparencies
Enjoy the multitasks with HP ENVY 6222 all-in-one printer. It comes with a bundle of software to enhance the output quality for photos. It's always been a great choice for printing on screen transparency paper.
It has two separate paper trays. The input tray comes with 125 sheets capacity and an output tray with 25 sheets. The maximum monthly duty cycle is 1000 pages however the recommended is 300-400 pages per month.
Enjoy the easy printing with the smart HP App. Setup this wireless printing within a few minutes. The printer has overall great performance and sharp quality output for both texts and photos.
One more strength is the auto 2 sided printing. However, it lacks an auto document feeder. The printing speed is normal for this printer. And it contains 2.2 inches mono touchscreen with time-saving shortcuts to perform tasks directly by few clicks.
No need to worry for inks when you have an HP instant ink program. Your printer automatically sends ink level information to the HP and as soon your ink runs out, the new ink cartridge is delivered to your home.
Pros
Great value for money
Separate photo tray
Craft software
HP instant ink
9. Canon TS5120 | Best Printer For Silk Screen Transparencies
Meet another Canon's model TS5120 that is an AIO wireless printer designed to print beautiful photos for everyday printing needs. It also gives decent text quality.
You will love the borderless printing with incredible print quality with TS5120. And it will save your time and paper because of the auto-duplexer for double-sided printing on transparency films.
It contains two ink tanks; one is black and the other is a combination of Cyan, Yellow, and Magenta.
It has a simple and solid body. And it comes with a compact design. With a fully responsive 2.5 inches LCD screen, the control panel becomes very simple and easy to use.
One of the best connectivity features of this printer is the high-speed USB. Further, it has front and rear paper trays so the paper feeding becomes versatile and easy for you. It has an above-average feeding capacity of 200 sheets, 100 sheets for the main paper tray, and 100 sheets for the rear tray.
Although it includes the basic connectivity features it lacks some features like Ethernet and memory card slot.
The best part of this printer is the Pixma Cloud Link by which you can directly access your files from social networking, photo sharing, and storage websites.
Let's talk about the running cost. It offers 6.7 cents per monochrome print and 14.7 cents per color print. I like it because it has better running costs than its competitors.
Overall, the Canon TS5120 is a good all-in-one printer that offers nice print quality, paper feeding, and decent speed. If you can ignore Ethernet, fax, and ADF then it is a perfect choice for you in an affordable price tag.
Pros
Very good print quality
Compact design
Duplexing
High-Speed USB
Cons
Does not support Ethernet and fax
No memory card slot
10. Canon Pixma MG3620 | Best Inkjet Printer For Transparencies
The Canon Pixma MG3620 has an affordable price tag and yet contains all the necessary features which a transparency printing machine should have. It's a perfect option if you need high-quality results for your prints without breaking the bank.
Print your photos on transparency paper with stunning quality output and good speed. It offers 10 ppm for black and white prints and 5.7 ppm for color prints. And it offers very fast scanning for documents.
Moving on, it has a quick and simple wireless setup. Even if you are not familiar with the printer's initial setup, you won't still find it difficult. The control panel features physical buttons and it does not contain an LCD screen.
The printer is compact and will save space on your desk. It's a lightweight printer weighing only 11.9 pounds and you can easily move it from one place to another. And you will also love the build quality of this machine.
The best part of this printer is the auto 2 sided printing. Thanks to the Canon for giving this helpful feature in such a low price printer.
A downside of this printer is that it contains only one input tray. But here I would say the price tag justifies it.
It has almost all the connectivity features. You can print directly from your mobile with the Canon Print App.
Overall, it delivers a lot for the money. You don't need to pay extra for features like ADF and LCD. All you need is attractive prints with easy mobile printing and this is a great choice.
Pros
High-quality output
Cheap price
Print, copy, scan
Auto two-sided printing
Wireless connectivity
Cons
No separate paper tray
Lacks LCD display
No ADF
Buyer's Guide For Screen Printing Transparencies Printer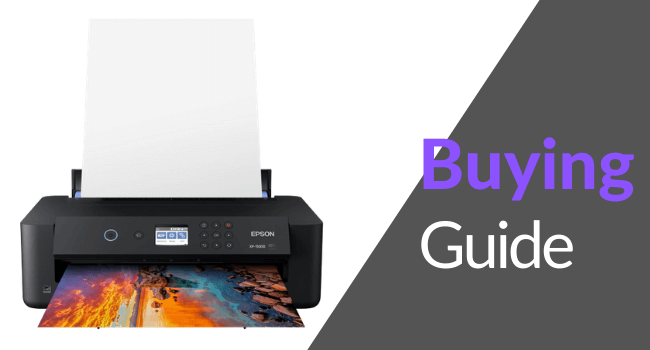 Size
A small size printer is fine but keeps in mind in that case you won't be able to print large size transparencies. Usually, wide format printers are bigger in size but that's not a big deal. Because with them, you can print small as well as large prints.
Above I mentioned the Epson Expression XP-15000 that's a wide format printer but the good news is that it has a compact body design. Isn't that great?
However, if you need prints only on A4, then a small size printer would also be enough for you. And you don't need to invest more in a large size printer.
Print Quality
The aim of investing in a printer is to get beautiful prints. Now the question is how to check the print quality of a printer for screen printing transparencies?
It mainly depends on the print resolution of your printer. The more the print resolution, the better the print quality.
You can go with printers having a print resolution of at least 2400 x 2400 dpi. These are enough to create high-quality prints. And if you are with a high budget, then go for the more print resolution.
Secondly, it also depends on the number of inks used in the printer. Nowadays, there are printers with multiple ink cartridges so you get the best possible output with vibrant colors.
Important Features
It's always necessary to have a printer with the features that meet your requirements. So let's look at your requirements and the features you need to fulfill them below:
If you are looking for printing, copying, scanning, and faxing then you can go for all-in-one printers.
If you have bulk print needs then go for the fast printer having large feeding capacity.
If you want an efficient printer that will save your time and paper costs then look for ADF and auto-duplexing in the printer.
And if you need to edit your photos before printing, then go for printers having built-in software and apps. So you can easily edit and retouch your photos before you print.
Most importantly, if you need the printer with quality output and you are not a daily user then I will strongly recommend you to go for the simple and low price printer. There is no point to buy an expensive printing machine having the extra features you don't need.
Connectivity
Nowadays, connectivity matters a lot! It's one of the most important features of any printer. Printing becomes very easy with mobile printing. There is no longer a need to go through complex processes and spend a lot of time.
On the other hand, wireless printing allows you to print by sitting anywhere in your office or home with just a few clicks.
Your printer must support both wired and wireless connectivity options. So you can use your iPhone, Android, or tablet to print directly from your screen transparency printer within a minute. And it would be the plus point if your printer supports Ethernet and USB.
FAQs
What kind of printer do you need to print on transparencies?
There are mainly two types of printers; inkjet and laser. The laser printers are better for printing texts. On the other hand, inkjet printers are better for photos. However, you can use both inkjet and laser printers for printing transparencies. But you should go for inkjet printers for high quality, fine, and detailed prints.
What is a transparency paper?
Transparency paper or film is a thin sheet of transparent flexible material, usually acetate sheet. It is made up of plastic film with a glossy finish and mainly used for screen printing. There are different transparency sheets in the market for inkjet and laser printers.
Which type of transparency paper do you need for screen printing?
There are different transparency films for different print technologies. So make sure that you find the right one for your printer. Otherwise, it will melt inside and damage your printer.
Coated transparencies are used for inkjet printers. And special types of transparencies are used for laser printers that can bear the high temperature.
Conclusion
Now you can easily make the selection of which printer is the right one for you. Every printer I mentioned above is good in its own way but may not be the one you need.
First, look at the specs and features carefully and choose the best printer for screen printing transparencies that will be within your budget and meet your needs. If the printer you choose fulfills your expectations and has positive reviews then go for it.